ATD V software controlled abrasive feeder
Allows for the fluid changing of the abrasive flow during cutting without needing to stop the cutting process. Moreover, it minimizes the consumption of abrasive needed for piercing the material.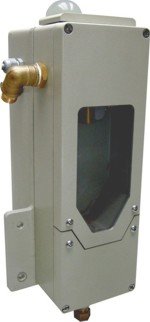 Fluid change of the abrasive flow during cutting brings:
lower consumption of abrasive,
higher cutting speed,
lower risk of abrasive nozzle cloggage when piercing the material,
higher quality of the cut,
longer lifespan of the abrasive nozzle
lower consumption of compressed air
Independent version of the doser:
Can be used for any machine. It is equipped with a manual potentiometer which serves to set up the requested quantity of abrasive. Abrasive flow for piercing can be changed in the software.
In comparison with ATD IV, the new ATD V offers many improvements:
higher volume of abrasive in ATD V suffices for several minutes of cutting
more precise dosing
sensor of quantity of abrasive
light and sound singalization
improved protection against water intrusion into the ATD V hopper
Thanks to its unique construction there are no parts that could be worn out during the cutting process!