Cyclone Dust Extractor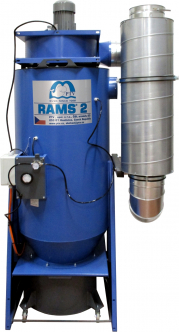 The Cyclone dust extractor is an industrial filter unit connected to the RAMS® 2 Automatic Recycling Unit (to  outlet above the drying owen) and it  exhausts the residual dust  that was not removed during the sorting process of the waste mixture in the sorting unit.
The total amount of residual dust is about 1.5%, that is captured on filters with a self-cleaning function.
The waste particles fall into a separate dust container with a capacity of about 60kg, with a wheel drive for easy handling.
The cyclone dust extractor is equipped with its own suction fan, and the output of the filter device is equipped with a sound absorber.
max widht : 712mm
max lenght : 698mm
max height : 1 757mm
max power : 1 100W